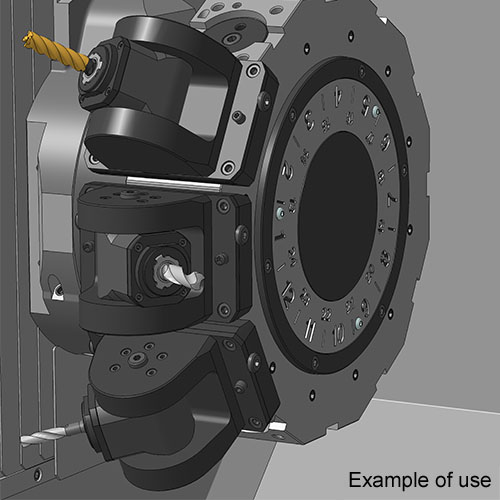 Orientable live toolholder +/-90° with internal coolant 70bar 6000rpm ER20
Orientable live toolholder +/-90° with internal coolant up to 70bar, 6000rpm max and ER20 collet (keys included)
ATTENTION: this toolholder exceeds the maximum safe turning diameter of the turret. Its use implies restrictions and interferences which will have to be taken into account in order to prevent collisions.
The tool holder allows an adjustment of the tool angle of +-90º.
External and/or internal cooling (70 bar max.)
Maximum speed 6.000 rpm.
Collets type ESX/ER 32 (not included).
Maximum clamping diameter of Ø12 mm.
Necessary keys for the operation of the tool holder included.
Please remember that the fastening of the collet, while the toolholder is mounted on the turret, damages the guidance for the drive keys on the turret.